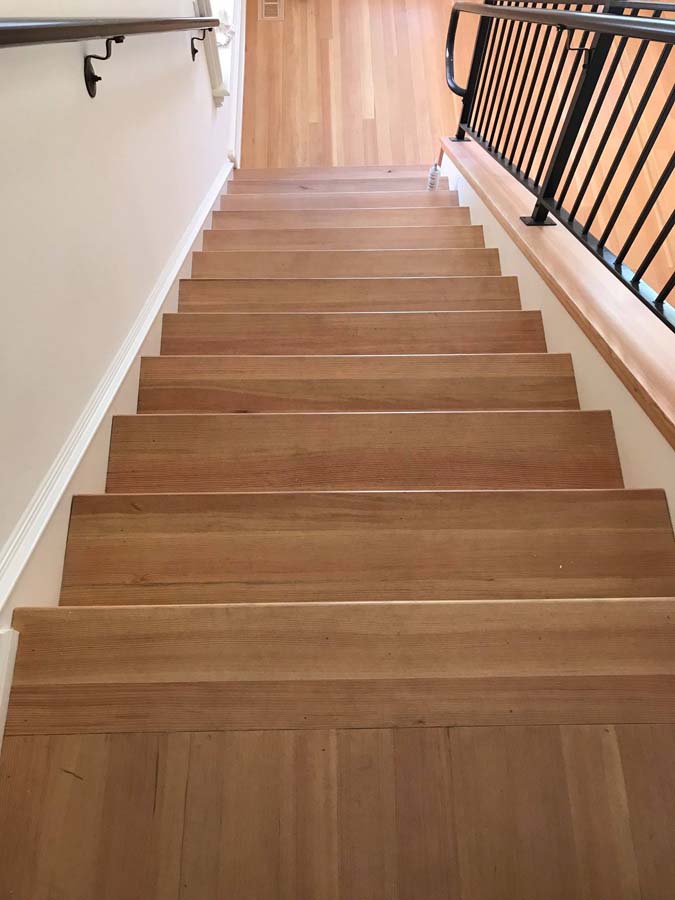 At Euro Hardwood Flooring, we pride ourselves on being your one-stop-shop for all your flooring needs. Our professional team is well-versed in a wide range of flooring installations and boasts extensive experience in modern procedures.
From laminate and vinyl to prefinished and unfinished hardwood flooring, we've got you covered. Whatever your vision, we guarantee that our skilled team will leave you with a finished look that exceeds your expectations. We offer various installation procedures, including floating click, nails, and glue, tailored to suit your chosen flooring type and preferred style.
To ensure your newly installed hardwood floors stay pristine, we provide a complimentary cleaning kit. Our exclusive cleaning products are expertly crafted by us, featuring the best chemicals to care for and maintain your flooring, keeping it looking stunning for years to come.
Euro Harwood Flooring Stair Installation Services:
Whether you prefer a classic oil-based finish, a water-based alternative, or a high-traffic option, we offer a range of premium finish types to suit your preferences. What's more, you have the freedom to select a custom stain that perfectly complements your style, making your hardwood floor truly unique.
Our skilled team is experienced in both stair treads and risers, ensuring your staircase blends seamlessly with the existing style of your home. Choose from a plethora of options as we can customize your hardwood stair tread to match your exact specifications.
As a bonus, we extend our matching services to include laminate and vinyl stairs, guaranteeing that you achieve the cohesive and unified look you desire throughout your home.
Our Experience in Stair Installation:
We are a family-owned company founded by a hard-working refugee from Europe. We strive to provide quality experiences with hardwood floors and a completely new approach to how floors should be done. Most importantly, we back everything we do with superior customer service and the highest quality materials.
We have expertise in installing any type of hard surface like solid hardwoods, pre-finished, engineering, Laminate, LVT, stairs, and more. We also sand & finish, refinish, repair floors, match stains, and do maintenance coats. You can't go wrong with Euro Hardwood Flooring!
What to Expect from Our Stair Installation Visit:
We are a licensed & insured flooring company serving the greater Salt Lake City and surrounding areas. We always offer a free quote and measurement for the area you want to be serviced. We'll talk to you about your lifestyle and needs, and help you to decide what kind of floor will last and look the best for your home or business.
We work closely with you to ensure your floor can stand up to the wear and traffic that happens every day. We can do repairs on different kinds of flooring. We can do maintenance as well – every flooring needs tender loving care continuously to make sure that your flooring is protected and last long. We do a deep cleaning on the hardwood flooring and do a standard screen and re-coating. For repairing existing flooring, We can also extend the existing flooring to other areas of the house or building by matching it and lacing it in.
Commonly Asked Questions about Stair Installation:
1. What is Euro Hardwood Flooring?
Euro Hardwood Flooring is a reputable flooring company that specializes in providing high-quality hardwood flooring solutions for residential and commercial properties. With years of experience and a commitment to excellence, we offer a wide range of hardwood flooring products and services to meet our customers' diverse needs.
2. What types of hardwood flooring do you offer?
We offer an extensive selection of hardwood flooring options, including solid hardwood, engineered hardwood, and laminate flooring. Our products come in various species, colors, finishes, and styles to suit your unique preferences and interior design requirements.
3. Are your hardwood floors durable?
Yes, our hardwood floors are known for their exceptional durability and longevity. We source our materials from trusted suppliers and utilize advanced manufacturing processes to ensure that our flooring products can withstand the test of time and everyday wear and tear.
4. Do you provide installation services?
Absolutely! We have a team of skilled and experienced professionals who can handle the installation of your chosen hardwood flooring with precision and care. Whether it's a residential or commercial project, our installation services are tailored to deliver a flawless finish.
5. Can I get a free estimate for my flooring project?
Of course! We offer free estimates for all flooring projects. Simply contact us via phone or through our website's contact form, and one of our representatives will schedule a visit to assess your requirements and provide a detailed estimate.
Testimonial
"Daniel and his crew were amazing. They made every effort to make sure that I was satisfied with their work, and every flaw was fixed in a timely manner. I have beautifully refinished floors and the process was as painless as I could have hoped for!"
Ali Black