Hardwood Flooring: Maintenance & Repairs
We work closely with you to ensure your hardwood floor can stand up to the wear and traffic that happens every day. We can do hardwood flooring care and maintenance repairs on different kinds of flooring.
We can do maintenance as well – every flooring needs tender loving care continuously to make sure that your flooring is protected and long lasting. We do a deep cleaning on the hardwood flooring and do a standard screen and recoating.
For repairing existing flooring, We can also extend the existing flooring to other areas of the house or building by matching it and lacing it in.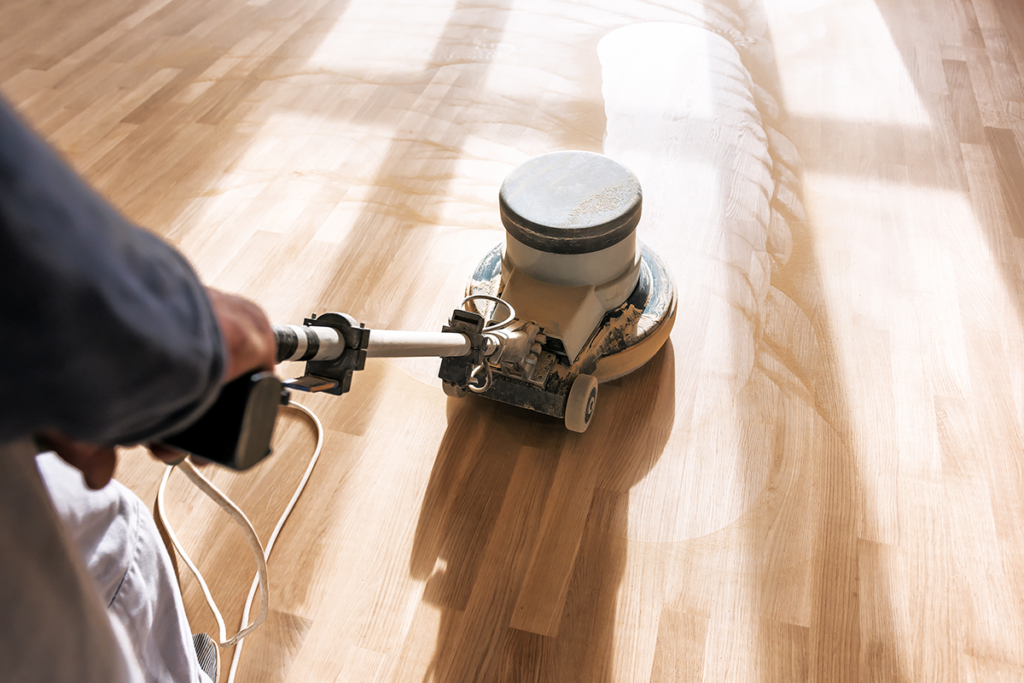 Types of Damage
Scratches and Dents: This can happen to the surface of your hardwood flooring due to heavy foot traffic or moving furniture.
Hardwood Floor Repair: Sanding and refinishing can help restore the surface.
Water Damage: Often results from spills or leaks, causing the wood to warp or swell.
Hardwood Floor Repair: Water damaged areas may require a replacement of the affected boards and addressing the source of the moisture.
Discoloration and Fading: due to exposure to sunlight.
Hardwood Floor Repair: Sun faded areas can be remedied by applying wood stains or finishes to revive the original color.
Euro Hardwood Flooring is a company that focuses on quality services for hardwood flooring needs for your wood floor care.
We are a family-owned company founded by a hard-working refugee from Europe. We strive to provide quality experiences with hardwood floors and a completely new approach to how floors should be done. Most importantly, we back everything we do with superior customer service and the highest quality materials. We are known for being one of the best hardwood flooring companies in Utah, so give us a call and see your flooring dreams come true!
What to Expect With Your Hardwood Floor Repair
Once we have visited with you to determine the size and scale of the damage along with the quoted price, we will prepare a time that works best for your schedule to repair the damage. All furniture will need to be removed depending on the location of the damage or wood floor care area. Although our machines are proficient in removing dust, it is impossible to remove all of it, so prepare to see some dust after a project. Dust will easily be removed by any handheld duster or dusting cloth. Now it's time to enjoy your beautifully refinished hardwood floors!
Frequently Asked Questions About Hardwood Floor Repairs
Q: Do I need to move my furniture before flooring is repaired?
A: Yes. All furniture needs to be moved off the damaged area.
Q: How long will it take to repair hardwood floor damage?
A: The timeline will depend on multiple factors, size, material, and finish product, but most projects are typically completed in 3-6 days, although very large spaces with boards that need to be replaced could take upwards of 10 days.
Q: What types of damage requires board replacement instead of regular repair?
A: Common types of damage are water damage, stains, scratches, and gouges. Typically these only require a simple refinish to correct. However, more damage such as splitting, cracking, gapping boards, buckling, and warping will take more to correct and may require boards or sections of the flooring to be replaced.
Testimonial
"I had three bids…NONE of them gave me an option to "fix the spot"…It went from $6000 down to $575 with these guys..AND they came 2 days after I called to fix it and I SWEAR YOU CAN'T TELL IT EVER HAPPENED!!! I am seriously so GREATFUL and mega IMPRESSED with their customer service!"
–Natalie Harris
"Daniel was friendly and communicative throughout the entire process of refinishing our hardwood floors. I can't stress enough how relieving it was knowing that we could easily get in touch with him before, during, and after the work was done. He knows his stuff and was great about answering any questions or concerns we had. He did a great job with our Australian Cypress floors, which we were told by multiple companies would be nearly impossible to stain. He was also able to repair some light water damage and it looks seamless. We are happy with the end result and feel that we got a great value for the work done by Daniel and Euro Hardwood Flooring."
–Arik Parker