Euro Hardwood Flooring Floor Installation
We install laminate, vinyl, and hardwood flooring (prefinished and unfinished). We guarantee you'll love the finished look of your wood floor. Depending on the type of flooring you choose and the style you want, we also offer a variety of hardwood flooring installation procedures such as floating click, nails, and glue.
When we complete your floor installation we'll even give you a free cleaning kit to care for your hardwood floors. Our cleaning products are made by us and have the best chemicals to care for and maintain your hardwood flooring.
It can be hard to know how much hardwood flooring installation costs, get a free quote to find out! We know you won't be disappointed with our services.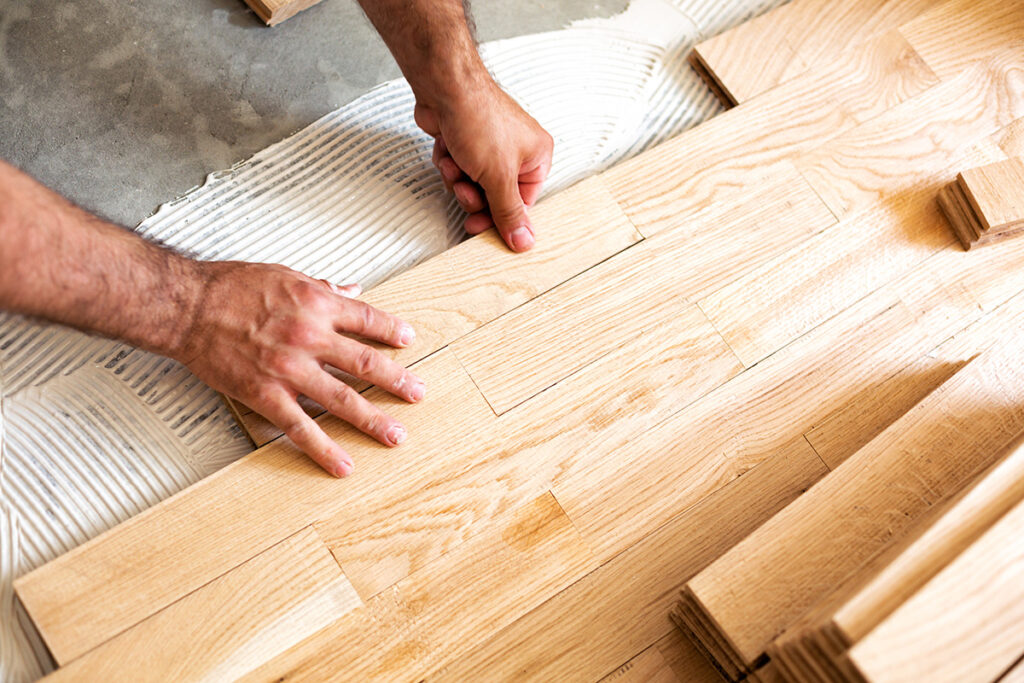 Hardwood floor installation is one of our many specialties. These hardwood installations can be done to fit the needs of your home. Tell us what you have in mind or we can run through the many options of flooring we have available. Get every detail you want down to the style, wood variety, and even different hardwood floor installation procedures.
Our Experience in Hardwood Flooring Installation
30+ YEARS IN BUSINESS We are the best hardwood flooring company in Utah, founded by a hard-working refugee from Europe. We strive to provide quality experiences with hardwood floors and a completely new approach to how floors should be done. Most importantly, we back everything we do with superior customer service and the highest quality materials. We have expertise in installing any type of hard surface like solid hardwoods, pre-finished, engineering, Laminate, LVT, stairs, and more. We also sand & finish, refinish, repair floors, match stains, and do maintenance coats. You can't go wrong with Euro Hardwood Flooring! We Deliver More Than What We Promise. We Are Your Local Family Flooring Business.
What to Expect With Your Hardwood Floor
Call us to get a free quote
We will show up to your house and give you an expert quote based on your wants and needs
If you agree to go through with a hardwood flooring installation we will run through the details of the project and get started!
Commonly Asked Questions About Hardwood Floors
What do I need to know before installing hardwood flooring?
Some things you need to know before hardwood installation are how to maintain and care for the type of hardwood flooring you are installing, find out if your floor is level so your hardwood won't buckle, and make sure you know how often you need to refinish it. These are just a couple of things to know before the flooring installation. One thing you might not expect is the fact that because it is hardwood and not carpet, rooms will be louder than they previously would have been if they were carpet. Any other questions about durability and maintenance can be asked by contacting us!
How many years do hardwood floors last?
Solid hardwood floors can last anywhere from 60 to 100 years, some last even longer. If properly maintained they can have this longevity. Hardwood floors do however need to be refinished every 7 to 10 years to make them last as long as possible.
How do I properly care for my hardwood floor?
Maintaining hardwood floors is essential to ensure their longevity and pristine appearance. Regular upkeep can help protect them from wear and tear while preserving their natural beauty. First and foremost, it's crucial to keep dirt and debris at bay by regularly sweeping or vacuuming the floors. This will prevent scratches and damage caused by grit and abrasive particles. To tackle spills or stains promptly, use a damp, not wet, cloth to wipe them away. Using lots of water for cleaning hardwood floors can cause long-term damage. Harsh chemicals should be avoided, as they can harm the wood's finish for example chemicals like ammonia and vinegar. Instead, opt for specific hardwood floor cleaners that are gentle yet effective. Installing protective felt pads on furniture legs can prevent unsightly scratches and dents while using rugs in high-traffic areas can minimize wear. Lastly, maintaining a consistent indoor humidity level can prevent the wood from shrinking or expanding excessively. By following these simple maintenance practices, one can enjoy the timeless elegance of hardwood floors for years to come.
Testimonial
"We have been amazed by Euro Hardwood Flooring. It started with the first phone call to Anna and continued through our first meeting with Daniel and On through the laying and follow-up after installation. The entire process has been timely, professional and the end result is a beautiful new hickory floor. Daniel communicated with me daily during installation. This is a fresh approach to ensuring a great result. The installation crew are truly craftsmen. Thank you to Euro Hardwood and we could not be more pleased."
-Shannon Price