New or existing, we can make your flooring look brand new.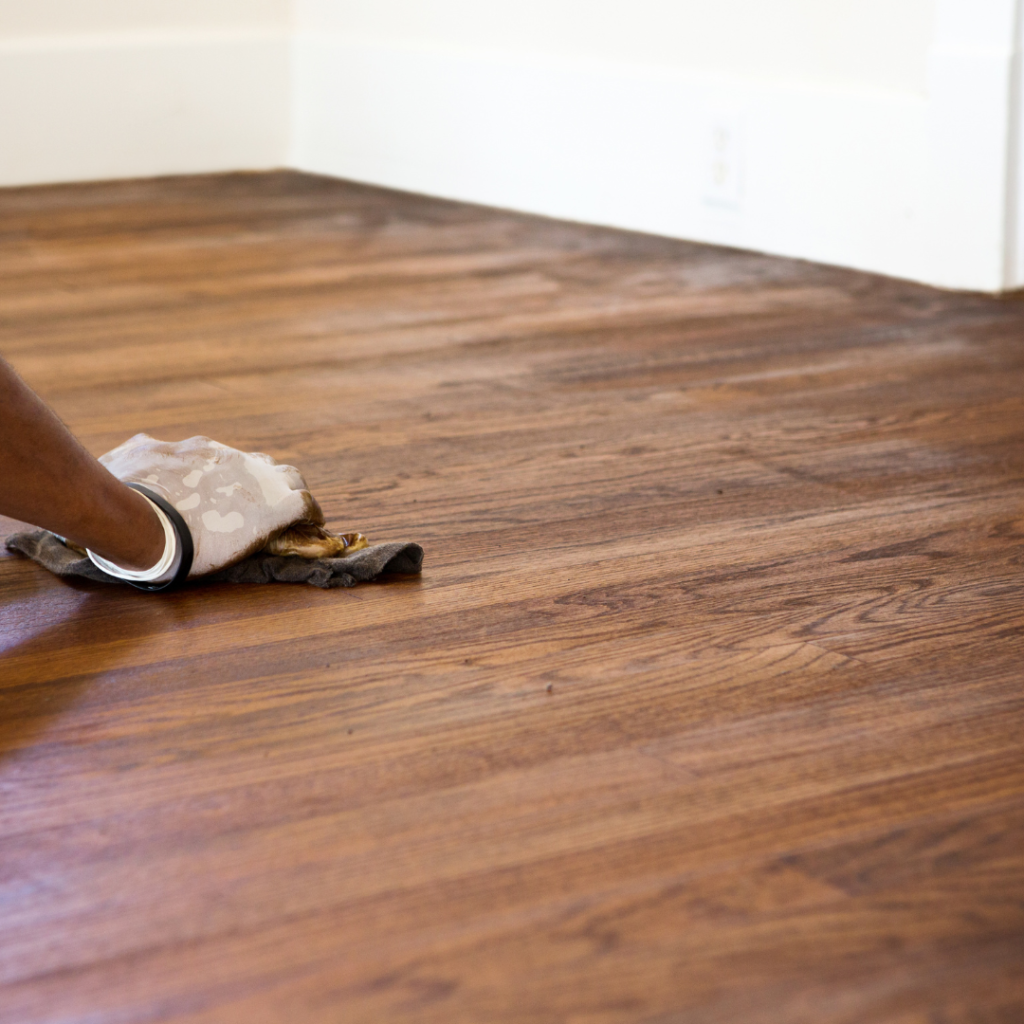 Whether you are updating your current hardwood flooring or investing in a whole new hardwood floor, we can sand and finish it for you. Sanding and Refinishing is a great way to breathe life back into your floors without taking on the cost of installing all new wood.
The choice is yours!
You have the choice of using either oil-based, water-based, or high-traffic finish types, along with your choice of a custom stain. Oil-based finishes are a classic choice, providing a beautiful richness that deepens the natural color of the wood. Oil-based finishes are typically less expensive than water-based finishes, but take longer to apply and dry. Water-based finishes can be more environmentally friendly as they have lower levels of VOCs (volatile organic compounds), and provide a clear coat that won't change color over time with sun exposure. High-traffic finish types are exactly what they sound like, they are finishes designed to be durable and long lasting in areas with high amounts of foot traffic.
Euro Hardwood Flooring is a company that focuses on quality services for hardwood flooring needs.
We are a family-owned company founded by a hard-working refugee from Europe. We strive to provide quality experiences with hardwood floors and a completely new approach to how floors should be done. Most importantly, we back everything we do with superior customer service and the highest quality materials. We are known for being one of the best hardwood flooring companies in Utah, so give us a call and see your flooring dreams come true!
What to expect when getting your floors refinished
Once we have visited with you to determine the size and scale of your refinishing project along with the quoted price, it is time to prepare to have your hardwood floors refinished. All furniture will need to be removed for installation (except for major appliances which we will move). We will remove baseboards and any trim, and we will line everything with plastic to keep dust levels down. After sanding the floors and adding your desired finish, we will seal the floors to protect the wood from scrapes and scratches. We will then put back major appliances, remove the plastic, and begin cleanup. Although our machines are proficient in removing dust, it is impossible to remove all of it, so prepare to see some dust after a project. Dust will easily be removed by any handheld duster or dusting cloth. Now it's time to enjoy your beautifully refinished hardwood floors!
FREQUENTLY ASKED QUESTIONS
Do I need to move my furniture before flooring is refinished?
A: Yes. All furniture needs to be moved off of the floors being refinished.
Will refinishing my floors fix the gaps/flaws in the floor?
A: Refinishing the floors will give a unified vibrant look back to the flooring, but it will not fix gaps or any 'flaws' that currently exist in the floor
How long will it take to refinish my floors?
A: The timeline will depend on multiple factors, size, material, and finish product, but most projects are typically completed in 3-6 days, although very large spaces with boards that need to be replaced could take upwards of 10 days.
Testimonials
Amber Briem
"Euro Hardwood Flooring has never let me down! They have refinished the hardwood floors in three of my homes and they all turned out amazing! They just installed a beautiful high-grade laminate in my current home. It turned out gorgeous! They were busy but they got my flooring installed in time for a family function I was hosting. I would not think of using anyone else. They are the best at what they do and a family owned business. They are organized, work quickly and efficiently and are a pleasure to work with. Anna is wonderful as well! Thank you Euro Hardwood Flooring!"
Janne Ojala
"Euro Hardwood did my main floor hardwood floor refinish project. Project was completed on time, and quality of work is excellent. Also, they are good people to work with. I would use them again."
J Mathews
"Euro Hardwood did a fantastic job on refinishing my hardwood floors. Daniel the owner was very responsive and professional. The technician John, worked hard, did not cut corners through each step of the process. I would recommend Euro Hardwood and plan on using them for any projects in the future. Quality company and people!"